catseye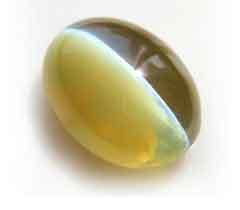 Product Details:
Stone Type

Natural

Material

Catseye

Stone Color

All

Shape

Oval Cut

Size

all

Weight

all Kilograms (kg)
Product Specifications
Catseye

Natural

all

all Kilograms (kg)

Oval Cut

All
Trade Information
Cash on Delivery (COD), Cheque

Yes Per Month

7 Days

All India
Product Description
Chrysoberyl Cats Eye is the astrological gemstone of the Dragons Tail or Ketu Graha as known in Vedic Astrology. Chrysoberyl belongs to the beryl family of minerals and has hardness of 8.5 on the Mohrs Scale. It has a Specific Gravity of 3.5-3.85 and is biaxial. Chrysoberyl is known as Vaidurya in sanskrit , Lehsunia in Hindi , En Alhit in Arabic and Chrysoberyl or Cymophane in English.Cats Eye is the effect achieve due to the cabochon cutting of the mineral so that minute microscopic strands run parallel and when light interacts with then a vertical stripe of Light is seen which rotates as the gem is rotated and give is the peculiar cats eye effect. The gem is always called chrysoberyl and cats eye is only the effect akin to stars on the star rubies.
Chrysoberyl is essentially an aluminate or beryllium and has the chemical formula BeAl2O4. It is available in different shades from yellow , gray , black and green. Each of these colors have different applications as per vedic recommendation of gemstones.Cats eye effect is also formed with quartz family of minerals and these gems are very cheap and easily available. It is the pale yellow color of chyrsoberyl that represents the color of garlic and thus is kwown as Lehsunia in Hindi , which literally means having the color of garlic clove. These are the real gems for astrological use and recommendation for Ketu.Chrysoberyls are mostly transparent and quartz cats eyes are opaque.Needless to say the trasparent gems are more powerful and costly than their opaquecounterparts.The fineness and straightness of the line running across the gem that gives it the cats eye effect govern the quality of the gem. The finer the line , the higher the price and more effective the gem. Cats eye gemstones having astrological significance are primarly available in 3 qualities.
Cats eye gemstone should be free from blemishes such as dark spots, broken lines, double lines ,sandy appearance , lack of luster and must not have extremities of color. Such gems fail to effectively transmit the cosmic radiation of Ketu and bring about undesirable results.
Cats eye gems should be free from any defects and must have uniform color , good lustre , acceptable transparency and must be appealing to the eye. A minimum of 3 carats is enough to be worn as per astrological reasons and the gemstone must be set preferably in silver.A gemstone of 3-5 carats is good and a Cats Eye of 7+ carats is most desirable and sought after. Since Cats Eye is a hot gemstone and governs the vata or air in the body ,gold is the best metal to effectively transmit the energy of the gemstone.
Cats Eye should always be worn within 1 hour of sunrise on Thursday on the middle finger of the right hand. Alternatively it may also be worn on the 3rd or ring finger if such yogas exist within thehoroscope.Cats Eye gemstone must always be worn if Ketu is favorable or benefic in the chart and is either exalted or placed in own signs or great friend sign and occupies a favorable navamsa. When such conditions exist , wearing a Cats Eye grants immediate favors and is very helpful.
On the contrary when Ketu is occupies debilitation / great enemy navamsa or is conjunct Sun / Moon / Saturn or Mars then donation of Cats Eye greatly enhances the prospects of native and serves him good.SinceKetu gives results of its dispositor , careful analysis of the horoscope is must.
Enter Buying Requirement Details
Other Products in 'Semi Precious Stones' category